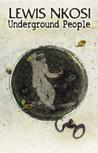 Underground People by Lewis Nkosi
My rating: 5 of 5 stars
It took me a while to get into this book, and it took me 100 pages to work out what period it was set in, but the interest and pace picked up as the story went along, and in the end I enjoyed it very much.
At first the descriptions seemed over the top, like one of those old TV sets where the colour and brightness levels were turned up too high. For example, "She was slim but strong, with long haunches like a well-bred horse, impressive in a solemn kind of way, shy yet provocatively earthy, painfully reticient but when drawn into converstion likely to unfold suddenly, as a quick responsive mountain flower after rain."
It's set in the dying days of the apartheid era (OK, I've given the game away, but it's not really a spoiler, just a puzzle I had, trying to work out if it was set in the 1960s or the late 1980s). The National Liberation Movement sends Cornelius Molapo to his home ground of Tabanyane, to coordinate a local uprising with the national liberation struggle. To account for his disappearance they put around the story that he had been detained by the Security Police, which brings Anthony Ferguson, who works for an international human rights NGO, to South Africa to investigate his disappearance. For Ferguson, a South African expatriate who had been out of the country for 15 years, it was as much of a strange homecoming as going home to Tabanyane was for Cornelius Molapo.
There are many surprising twists in the plot, and eventually Anthony Ferguson comes face to face with Cornelius Molapo, in circumstances he could never have imagined.
______
A couple of extra notes, not included in the Good Reads review.
One of the things that makes books by South African authors more interesting is that they are likely to be set in places one knows, and sometimes, as in this case, one may even have met the author. I met Lewis Nkosi when he spoke at a Progressive Party house meeting in the northern suburbs of Johannesburg. It was in October 1960, just after the republican referendum, and he was asked to speak to the predominantly white audience on "The African and the republic". He was then a journalist on Drum magazine, and said that Africans were not much interested in the republic question, as it would not make much difference to their oppression. I got to drive him to the meeting, and found him an interesting person to meet. Soon after that he left South Africa, and spend the next 30 years in exile, and perhaps that was why I found it hard to work out the time his book was set in — he may have been drawing on old memories in writing it.
One example of this is that in the book white people refer to black people as "natives", but during the 1950s the politically-correct Afrikaans term became "Bantoe", and among English speakers it became "African", and remained so during the 1960s. In the 1970s "black" became more common, and "native" was seldom heard, and by the 1980s "native" seemed to have vanished completely.
I was sad to learn that Lewis Nkosi had died; you can read his obituary here.